Tuesday, October 29, 2019, 7pm-9pm
Woodman Center, Moses Brown School Campus
250 Lloyd Ave. Providence, RI 02906
An Evening of Celebration and Storytelling by Refugees
Join us for an evening of celebration and storytelling as we honor Navyn Salem of Edesia with our 2nd annual Annie Award for her lifesaving work with refugees worldwide. Come and hear spellbinding stories told by refugees living in Rhode Island. This will be an inspiring and magical evening as we pay tribute to our newest neighbors and to a woman who is dedicating her life to serving them.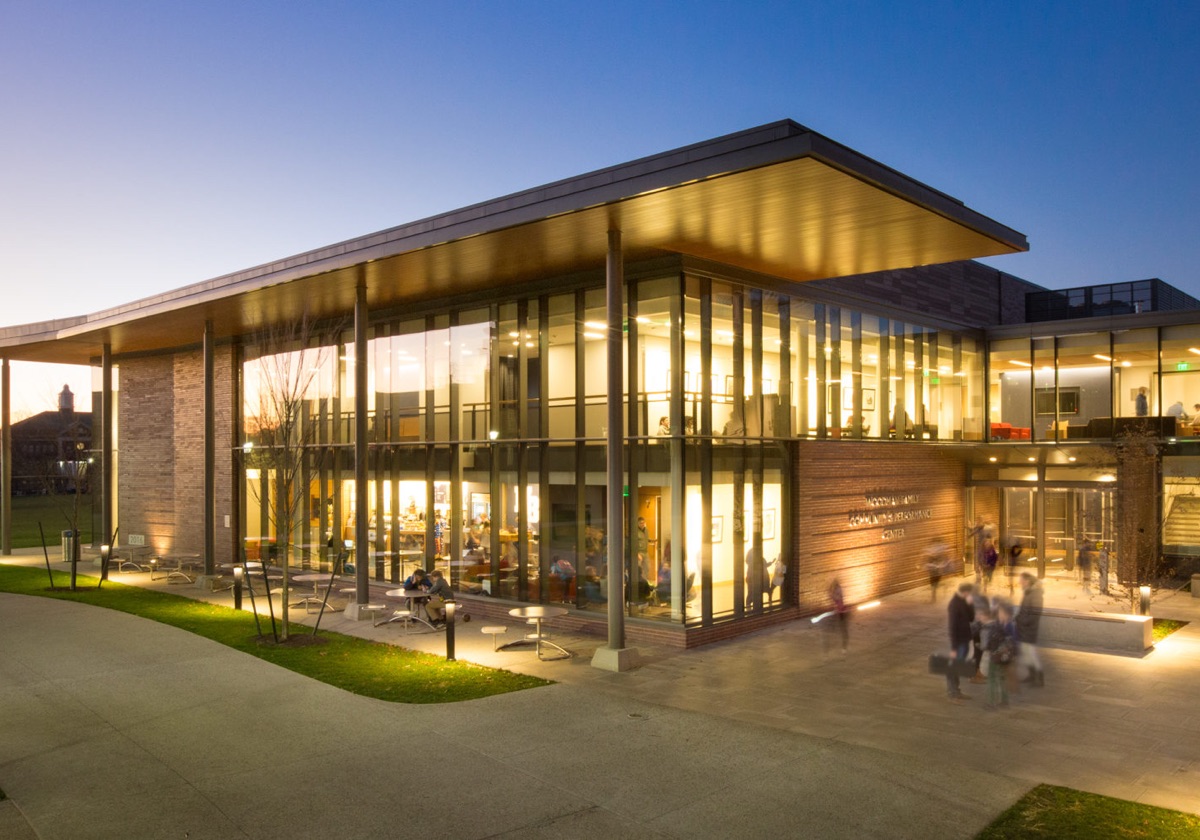 Opened in December 2016, the Woodman Family Community & Performance Center is a facility like no other in New England. Located on the sprawling and beautiful campus of Moses Brown School, the Woodman Center is handicapped accessible and will provide an architecturally stunning space to relax in while enjoying the evening's performances.
STORY OF THE ANNIE AWARD
In memory of Anne Dombrofski
The Annie Award is presented annually by Beautiful Day to an organization that demonstrates extraordinary service to refugees and other vulnerable populations. It was started in 2018 in memory of Anne Dombrofski, Beautiful Day's first Director of Strategic Partnerships, who died tragically in a bicycle accident in 2016. Anne worked passionately to help resettled refugees find possibility and hope in their new home country. We are proud to honor her memory in this way.
The recipient of the First Annual Annie Award was IRIS (Integrated Refugee and Immigrant Services), a multi-service center based in New Haven, CT whose mission is to "help refugees and immigrants establish new lives, regain hope, and contribute to the vitality of Connecticut's communities."
REFUGEE STORYTELLERS
Sharing inspiring journeys of hope
Four refugee storytellers will perform during the evening. One storyteller works for Edesia and the others work for three other agencies in the State serving refugees: Beautiful Day, Refugee Dream Center, and Women's Refugee Care. Navyn has partnered with each of these agencies in various ways and we seek to honor her for her local efforts, as well as for her international impact, by choosing one storyteller from each organization.
Antoine Nzeyimana, Edesia
Antoine is originally from Burundi where he received legal training and worked as a human rights activist before fleeing to the Ivory Coast to escape persecution. He continued to work for social change until the political situation became too dangerous and he was forced to flee once more. Antoine came to Rhode Island in 2010 and began working as a trainee at Beautiful Day. He now works part-time at Beautiful Day and full-time at Edesia. He recently bought a house in Providence where he lives with his wife and two boys.
Vivian Nano, Beautiful Day
Vivian is originally from Iraq. She is an Assyrian Christian and her first language is Assyrian New-Aramaic, the same language that Jesus spoke. She was injured in 2004 after a bomb fell on her home in Baghdad, killing her husband and in-laws. After several surgeries, she and some of her family members were eventually resettled in Rhode Island in 2008. Vivian currently works as Beautiful Day's Administrative Assistant. She lives with her two sisters in Cranston and is engaged to be married.
Aline Binyungu, Women's Refugee Care
Aline is from the DRCongo and is now an American citizen. A human rights defender and refugee advocate, she has dedicated her life to helping women and children. When she came to the US in 2014, she and her family faced numerous challenges. No one spoke their language, they did not know anyone, and there was no formal orientation on how to transition into American society. As a result, she made a commitment to ensure a more welcoming transition for other refugees. She entered the Social Human Service Assistant Program at Rhode Island College and founded Women's Refugee Care with her husband to assist refugees from East Africa.
Teddi Jallow, Refugee Dream Center
Teddi Jallow is a refugee from the Gambia who arrived in the US in 2009. Together with her husband, she founded the Refugee Dream Center, which provides education, health referrals, and case management to refugees from West Africa. Teddi has worked as a community organizer, case manager and interpreter and speaks various languages of Western African populations including Fula and Wolof. She works as a Certified Nursing Assistant and Medical Technician and is currently obtaining a degree at Rhode Island College.
BEHIND THE STORIES
Our Storytellers are trained by Suitcase Stories
The storytellers are trained in the art of crafting and performing stories by Suitcase Stories, a program of the International Institute of New England (IINE), one of the oldest and largest social service organizations for new Americans. IINE has offices in Boston, Lowell, and Manchester, NH and serves nearly 2,000 refugees, asylees and immigrants each year, providing resettlement, education, career advancement and pathways to citizenship.
Suitcase Stories is dedicated to raising the profiles of refugees and immigrants while strengthening community through the sharing of stories.
ABOUT THE HOST
Beautiful Day
Beautiful Day is a Providence-based, nonprofit gourmet granola company with a mission to help refugees, especially youth and the most vulnerable, to enter the job market and become welcomed, self-sufficient members of our community.